Pro Shop
You'll know we love golf when you see our pro shop stocked with hundreds of personal gifts and decorative items all in the "Name of Golf". You'll find wall plaques with clever sayings, desk accessories and lamps trimmed with nostalgic miniature balls and clubs. Cookie jars that look like stacks of golf balls, bookends with golf themes, hors d'oeuvres platters, barbecue aprons and oven mitts – all for the golf enthusiast! Whether you're an avid golf fanatic (or you're only shopping for one) you'll enjoy browsing through our collection.
In addition to gifts, we carry full lines of name brand equipment, balls, every accessory for the game plus fashionable men's and women's golf apparel.
Fat Willy's Clubhouse Pub & Grill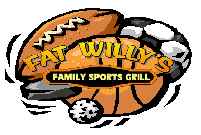 Fat Willy's, overlooking the 18th green and fountain, is open for breakfast lunch and dinner. With a pleasing menu of tasty appetizers, hearty sandwiches, ice cold drinks and wonderful daily specials,Fat Willy's is the perfect place to begin or end a fun-filled day of tennis, aerobics, softball, golf or just socializing!
Fat Willy's boasts plenty of new hi-definition flat screen televisions with all your favorite sporting events.
Enjoy indoor or outdoor patio seating with one of the best views in the East Valley!
Or visit one of their 3 other East Valley locations. Go to www.fatwillysaz.com for more information or call (480) 373-4444.